Surf

Album paru le 20 juin 2020 – Parlophone – Warner Music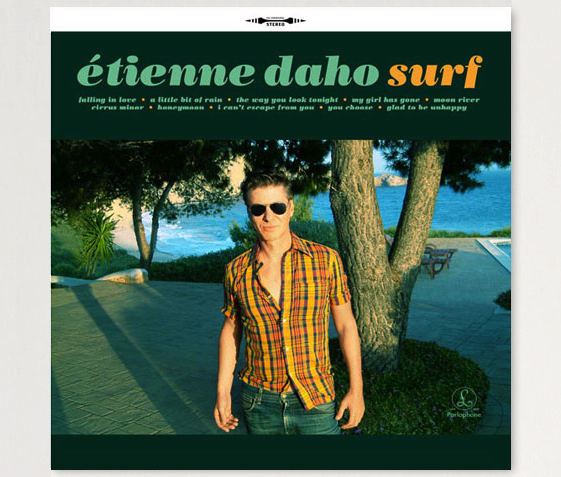 Commencé en 2004, abandonné puis repris en 2006, cet album de reprises compile une partie des titres prévus initialement. Certains titres étaient parus dans le EP « Be My Guest Tonight » en 2006 et dans l'édition Deluxe « Réévolution » en 2019. A ces titres s'ajoute l'inédit « Falling In Love ». La pochette d'origine est illustrée par une photo prise à l'été 2005 dans la maison d'Etienne à Ibiza.
Etienne Daho, étant l'ambassadeur du 10ème anniversaire du Disquaire Day, sort l'album à cette occasion.




La discographie intégrale et chronologique de la période de « Surf »

1 support répertorié pour ce chapitre

SURF, Album vinyle jaune orangé marbré, 10 titres, sortie le 20 juin 2020
Parlophone Warner

A Side

1 – Falling In Love, reprise de Dennis Wilson, batteur des Beach Boys

2 – A Little bit Of Rain, reprise de Fred Neil et Karen Dalton

3 – The Way You Look Tonight, reprise de Air

4 – My Girl Has Gone, reprise de Smokey Robinson & The Miracles

5 – Moon River, reprise de la Chanson du film « Breakfast At Tiffany's » réalisé par Blake Edwards et chantée par Audrey Hepburn.

B Side

1 – Cirrus Minor, reprise de la chanson de Pink Floyd, BO du film « More » réalisé par Barbet Shroeder

2 – Honeymoon, reprise de Phoenix

3 – I Can't Escape From You, reprise de Hank Williams

4 – You Choose, reprise des Pet Shop Boys

5 – Glad To Be Unhappy, reprise du classique de la comédie musicale On Your Toes, reprise entre autres par Billie Holiday et Franck Sinatra.






PHOTOS A VENIR


LA PAGE ETANT EN COURS DE FINALISATION, CELLE-CI EST ENCORE INCOMPLÈTE
Nous désirons que le site d'Etienne soit le plus complet et le plus parfait possible.
Si vous détectez la moindre erreur, un souci de lien, ou si vous désirez apporter un complément d'information ou un document comme un disque ne faisant pas partie de la discographie détaillée, nous vous invitons à nous contacter à l'adresse mail suivante : webmaster@dahofficial.com
Le site d'Etienne vous remercie par avance.